Alexei Shirov Winter Cup - 2015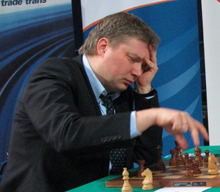 Alexei Shirov Winter Cup 2015
Jurmala (Latvia) 1st-6th March 2015
The event will be held in two age groups - under 14 and under 10 as individual Swiss but with team rank as well. Each team consists of 3 boys and 1 girl. The participation of one reserve boy and girl in each team is possible.
There are 7 rounds in each group (both are FIDE rated), time control is 90 minutes per game plus 30 seconds increment per move.
Regulations: EN • Results: [ A ] [ B ] [ C ]