The Baltic Summer Chess Camp 2014
Author: Yuri Agafonov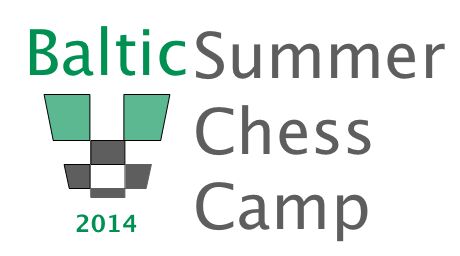 The international Baltic Summer Chess Camp (www.chessbaltic.com) held in Riga during August 13-16. It was an intensive and enjoyable training which will invigorate the chess practice of the children and adults with ELO below 2014. Participants from Latvia, Lithuania and the UK improved their chess skills and enjoyed Riga city (charming European Capital of Culture for 2014) celebration. City tour was held and participants were able to spend time wandering around the pleasant Riga Old Town exploring its markets, cafes and museums. The event was conducted in English which provided welcome cross-cultural and language experience for the participants.
Main trainer Verner Putka used a variety of teaching methods including lectures, game analysis, memory recall, exercises, consulting and pair games, simultaneous. Fried Liver attack against the Two Knights defence was illustrated by the topical game Shirov (Latvia) – Sulskis (Lithuania) from the recent Tromso Olympiad which Shirov won in swashbuckling style. Ričardas Fishmanas, the Lithuanian coach, presented some rare lines in the Kings Indian Defence. On the third day, Girts Kazmins navigated through the inevitable Latvian Gambit and showed it to be a dangerous weapon against the unprepared opponent. Valentin Kirilov, trainer of 8th World Champion Mikhail Tal, told about chess Heritage and showed a lot of personal materials. Participants were able to improve international chess ratings by playing in the local tournaments, including number of www.rtuopen.lv .
Grateful acknowledgement is due to those who supported the UK participants including Chess in Schools and Communities for its award grant to Megan Richards (Cardiff), as CSC Pupil of the Year; the John Robinson Youth Chess Trust for its grants to Michael Green (Canterbury) and George Harman (Manchester) and for the donation of prizes. Training take place in charming chess club ROYAL BIOGRAPHY, located in the historical center of Hanseatic Riga, thank you to the owner – Dainis Deglis. The BSCC 2014 achieved what was intend, was value for the money and all participants would like to return next year.
Organizators of BSCC2014:
John Foley, Director of Training and Education, Chess in Schools and Communities;
Dr. Yuri Agafonov, FIDE Trainer.