New Free Online Chess Server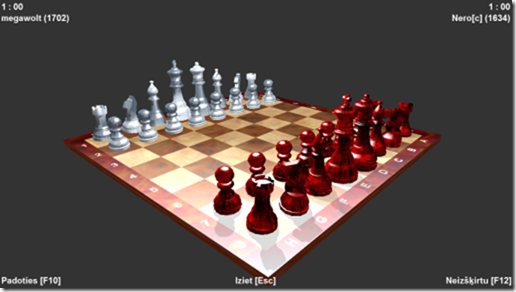 We would wish to inform you about a new free online chess server - www.nightmarechess.com. It is available in three languages – English, Russian and Latvian.
This new chess server uses the already fairly well known chess software – Nightmare Online (Crafty Chess GUI was developed using it as a base). It now comes with two new editions – for Android mobile devices and for playing directly from browser using Java.
Some features of this new server:
- ratings are divided in three types – one for super blitz, one for blitz and one for standard time control (more than 14 minutes per game)
- there is possibility to renew lost connection within 5 minutes - this if for any type of problem – temporary Internet connection loss, electricity failure, computer crash etc. – just login using the same nickname again and you will be taken directly to your game (presuming there is still time left on your clock) – this also gives possibility to continue your game, if you have an Android device - in case you have to go somewhere in the middle of a game (just login with Android and your connection in computer will be automatically closed)
- you can test the interface and server without registering – including playing against bots, other unregistered users or opening an unrated game – for example you can begin playing Java version just with a few mouse clicks – just skip entering your nickname when you press [Login]
- we have serious measures against online cheating using computer help – now you can play without serious worries about having to play against computers impersonating humans – and if you will have to play a game or two like this the cheater will be caught as soon as possible and marked as bot – he will be able to continue playing but not participate in the rating list as well as he will show up as a computer player
- additionally against cheating will help possibility to observe any game and report any cheater or watch record of any previously played game – including seeing what clock was showing for every move
- the server also offers possibility to test your skills against strong but beatable computer opponents – they are clearly marked as such so you don't have to play against them thinking they are humans – they also don't participate in the official rating list of the server
- we offer fast and easy registration process and possibility to quickly learn how to play chess from our site – this includes short and clear chess rules and guidelines and a possibility to turn on legal move display
- we also offer simple and comfortable chess analysis software – based on the famous Crafty chess engine by Dr. Robert M. Hyatt – this software also provides possibility to attach any external Winboard or UCI engine – both for analysis, playing against it or setting up computer matches
- in future we plan to run online tournaments – there is already some initial steps taken to provide this possibility
-Windows stand-alone client application Nightmare Online also provides a cool 3D board which you can easily rotate using your middle mouse button or keyboard arrow keys
Regards,

NightmareChess.com administration